Considering a Bowtie Ski Carrier: What You May Want to Know
If you're checking out this blog, you are doing your homework to find a Bowtie ski carrier that you'll be glad to have. This post may help you choose as there certainly are a number of carriers out there.
If you haven't already done so, you will want to check the 309 out of 319 positive Bowtie ski carrier reviews at Amazon. (86% 5 star; And these are all legitimate reviews)
The Bowtie ski carrier is one of the very few carriers that is sewn and assembled in the USA. The quality of construction is easy to see.
Many other ski carrier / slings are disappointing because they are clumsy to put on. If it's harder to get the ski carrier on the skis than it is to simply carry the skis and poles…well, then it's not worth much.
You'll notice that most other carriers give rather vague instructions on the back of the package, if they give any at all. Very few other carriers actually show how they are put on a set of skis and poles.
It's often after you get it home, take it out of the package and try to put it on your skis that you find that it is not all that simple to do in your living room , much less on a ski slope at the end of a day of skiing.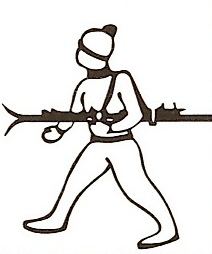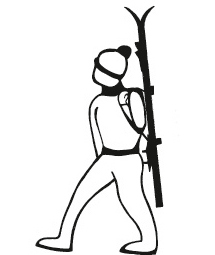 If you follow the link at the bottom of this page you'll see our full directions that come with each carrier. We want you to know how our carrier goes on before you buy it. There is also a video on YouTube that will give you clear directions on how to use your Bowtie Ski Carrier.
You will see that the "Bowtie" advantage is that it allows you to fasten the ski holding strap on the top of the skis instead of the bottom. There's also a small tab to hold while you wrap it that means you can wrap it snugly without your fingers getting in the way.
This "Bowtie" over-wrap is what makes our carrier work so well. It is also what makes our Bowtie Coil Keeper so popular with campers and craftsmen to keep their cords and hoses neatly held.
These may seem like small things, but they make all of the difference when you are putting on the ski carrier. Some folks put the Bowtie carrier on their skis while they are standing up holding the skis and poles alongside them. Once you are comfortable with the ski carrier you may choose to do that too, but for a while you will find using gravity to help hold the skis and poles in place is a good idea.
Many other carrier / slings use the weight of the skis to provide the tension to hold things snug. When you set your skis down that tension is lost. With the Bowtie carrier, the combination of strong Bowtie overwrap and that little bit of elastic holds everything snug whether carried or set down.
The Bowtie carrier uses a bit of elastic in the ski wrap. Skis and poles jiggle while they are carried, and without elastic in the wrap they become loose and sloppy after being carried for awhile. That little bit of elastic in a Bowtie Carrier holds them snug enough so you can carry them with confidence that they won't fall apart.
The Bowtie carrier / sling uses a nylon rather than polypropylene strap for the handle. Although it is expensive to us and it looks about the same as straps on other carriers, it less likely to fray and less likely to slip off your shoulder when you are wearing a conventional ski jacket. It is one more way we've made this the best carrier we could.
The hook and loop, velcro type straps serve a dual purpose. They easily adjust to hold the skis snug, then when not in use serve to fasten the carrier upon itself for a neat soft small packet. No straps or belts to come loose or hang on the chairlift.
Take the time to click through the site. All Bowtie ski and Bowtie snowboard carriers are designed to wrap up and fasten on themselves to make up an easily pocketed soft packet. The Bowtie Ski Boot carrier folds to neatly fit in your shoe or boots.
You may also want to know that when used with a Bowtie ski carrier, the Bowtie ski boot carrier allows the most secure means of carrying skis, poles and ski boots and still allows hands free for the little one's hands or for other items. For more info, check out the Bowtie ski boot carrier here.
You can check out the reviews and buy Bowtie ski carriers at Amazon. If you are not completely happy with your Bowtie carrier drop me an e-mail from Amazon and I promise that I'll give you instruction until your are happy with them or I'll gladly return your purchase price. Bowtie ski carrier directions here.